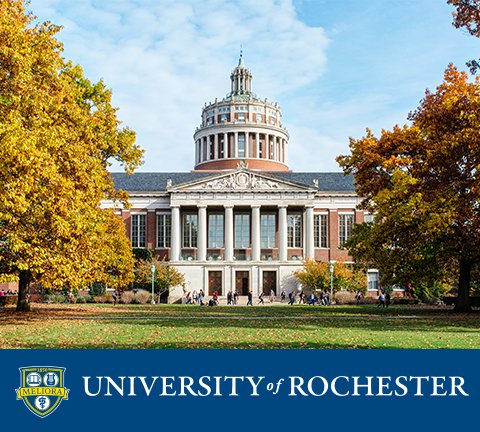 What is the Rochester Early Medical Scholars (REMS) program?
The Rochester Early Medical Scholars program is the eight-year BA/BS + MD program at the University of Rochester (UR). Founded in 1991, the program helps students committed to pursuing a medical career skip some of the more tedious aspects of applying to medical school – like taking the MCAT and applying to numerous medical schools. Instead, you spend your four years as an undergraduate truly learning and exploring, without the extra stress of paperwork, standardized tests, and interviews. Our program takes eight years for a reason. We don't want you to accelerate your learning, we want you to have the chance to savor it and grow as a person, a learner, and a future physician. That's one of the things that makes our program special.
What will it be like as an undergraduate in the REMS program?
Your experience as an undergraduate in the REMS program will be just like that of a typical undergraduate at UR. You'll have access to the same advising support, you'll live in the same freshman dorms, and you'll learn from the same open curriculum as everyone else. However, as part of the REMS program, you'll also have access to a huge network of student and faculty mentors and exclusive invitations to special talks and programming. You'll also be required to take the normal pre-medical coursework like biology and chemistry and there's a minimum GPA requirement that you must maintain during your undergraduate studies.
Undergraduate life at UR is rich and exciting. We have a vibrant student life program, with more clubs and activities than you could possibly imagine. We have a robust music and athletic scene, with 5 a cappella groups, Division III varsity sports, and an active roster of club teams as well. We have an open and flexible curriculum, that not only allows but encourages you to explore all your varied academic interests. I came in as a chemistry major and graduated with an economics degree — and still went to medical school.
Does anyone ever get kicked out of the REMS program?
Your freshman year you must keep an overall 3.4 GPA and a 3.4 in your math and science coursework. Then, they slowly raise the bar, requiring a 3.5 GPA by the end of your sophomore year, and a 3.6 GPA during your junior and senior years. But don't be worried! Most students do just fine maintaining this GPA and our advisors have your back. If you're struggling or have a rough semester, the program works with you to figure out what you need and will help you get back on track. The first semester you don't meet the GPA requirement, you'll receive a warning letter and guidance about where to find tutors or assistance with study habits. With a huge family of other REMS students and a supportive group of faculty and advisors, you'll feel challenged and well supported. Very rarely, a student is unable to keep their GPA up, even with assistance from the program, and no alternative solution can be found. In this case, your automatic acceptance to the medical school will be rescinded. However, you'll be able to continue your studies at UR and apply to medical school as you would otherwise — there are no other penalties. This hardly ever happens, and usually when the student decides they no longer want to attend medical school anyway.
What if I change my mind about medical school?
Sometimes, students in the REMS program choose to apply to other medical schools or pursue other things like public health or law. Even though we hope that all our REMS students continue on to medical school at UR, our program is designed to help you become the best person you can be, not just the best physician. To that end, your program advisors and mentors will continue to help and support you through this process. If you decide to take the MCAT and apply to different medical schools, the program will support you, perhaps write you a letter of recommendation, and hold your spot at UR in case you decide you want to stay. One of my friends in the program decided to apply to other medical schools, took the MCAT, went to all his interviews, and ended up deciding he liked UR the best!
It's also not uncommon for REMS students to take some time off before medical school. Our students have participated in the Fulbright Scholars program, earned fellowships, created their own research projects, or earned additional degrees. There are plenty of resources on the undergraduate campus to help you find these opportunities as well as your network of other REMS students. It's an awesome opportunity to explore more about the world and yourself before medical school – and the program holds your spot while you do it!
What will it be like as a medical student in the REMS program?
Just like your first four years, your experience in medical school will be just like that of a typical UR medical student. You'll take courses and do your clinical rotations with your class, but still have access to the REMS network and events.
The biopsychosocial model of medical education at UR is what sets us apart. You'll learn all the science you need to pass your board exams, but you'll also learn how environment and circumstances affect your patient's health and the care you'll provide them. Medical humanities coursework is structured into the curriculum and you'll spend ample time honing your communication skills with faculty and peers. The clinical abilities of UR medical graduates are unparalleled.
What's it like living in Rochester for eight years?
When I visited the UR eight years ago now, I was a little wary of my surroundings. I had always wanted to go to school in an exciting, bustling city, with plenty of things to do and see and new things to discover. My tour guide was from NYC and he put it this way. "In NYC, there are thousands of things happening every weekend and I could only go to a few of them. Here in Rochester, there are a hundred things going and I can still only go to a few of them." Rochester is an amazing place to live. For a city of its size, it has top notch food, a robust music and arts scene, and an awesome array of parks and outdoor activities. I have loved my time here and am still finding new restaurants, cool concerts, and great things to do, even seven years later.
What should I do to prepare for the REMS application?
The best advice I can give you is to do what your passionate about and do it to the best of your ability. However, the REMS program is very competitive, with only 8-10 spots for well over 1000 yearly applicants. Our REMS students typically have a 3.95 unweighted GPA and rank in the top 3 percent of their high school graduating class. They also have superb standardized test scores and are active in both medical and non-medical extracurricular activities. Still, the best thing you can do for your REMS application is challenge yourself, work hard, and stay genuine to the things that excite you.
What's the best thing about the REMS program?
I'll give you two great things for the price of one. The first is the people. The students and faculty that I have met at Rochester have been instrumental in my personal growth and development. They are intelligent, interesting, and empathetic people who will challenge you, support you, and help you reach your full potential.
The other best thing about the REMS program is its flexibility. If you're accepted to the REMS program, it's because you're passionate about medicine as a career. But that's a big decision to make at such a young age and the program encourages you to explore and discover. You'll work with your mentors and advisors to become the best version of yourself, not just the best doctor.
With Input from: Antoinette E., current student